An audio version of this essay is available on YouTube.
"If you are happy you will find yourself, after a June day in Venice (about ten o'clock), on a balcony that overhangs the Grand Canal, with your elbows on the broad ledge, a cigarette in your teeth and a little good company beside you. The gondolas pass beneath, the watery surface gleams here and there from their lamps, some of which are colored lanterns that move mysteriously in the darkness."

—Henry James, Italian Hours
SPRING, 2015—It was the last day of my job at the cafe in Fort Greene. I had spent the week packing up my small Bushwick loft. I'd found a storage place just off Halsey stop on the L train where I left a good amount of books, some extra jackets, and a Bianchi bicycle. I was leaving for Europe.
What does one take with oneself when heading off on the road for nine weeks? I took a brown canvas duffle, a NorthFace backpack, my Nikon FG, and a guitar. It was the middle of March, I think—or the end—It was the end, the 25th. My first stop was London.
LONDON, ENGLAND—I was e.e. cummings tired when I landed at London International. I left the airport. I took a train toward the city and I stopped through a beautiful station. I took the Tube to Shoreditch where I would camp out at Alphabet Hostel for seven days, running to and from cafes and restaurants and back to cafes again. I thought about visiting the white cliffs of Dover, and making a trip to Stonehenge. I wanted pictures. But then I wasn't all that motivated to figure out how to get there. Aside from the food and the drink and a trip to Tate Modern, I spent most of my time reading Freddy and Frederica. My gosh, one of the funniest books I have ever read in my life; loaned to me by a friend, it was part of a grand project I had set for myself on this my European tour—To read a book in every place that was either written by a native author or addressed to a native theme.
You are tired,
(I think)
Of the always puzzle of living and doing;
And so am I.

—e.e. cummings
I must admit that my first thought of England has always been that we (Americans) kicked their asses with pitchforks in 1776 AD. That's not completely true, we also used muskets and some informal warfare. But on reflection, in plying the London streets, I realized that I've willed this 1776 national-myth-information at every Englishman I've ever met, and that with a grin in my heart. Of course I've never said it aloud: "Don't you know…?" and "Isn't it funny…?" But I have wondered to myself: Why is that? Why have I always thought that? Do I still think that? When is the last time I came across an English person? Did I feel that will of my national creation myth toward them?
I finished Freddy and Frederica and left the book on a couch in a restaurant. I should have mailed it back to my friend in New York during the stop I made for all the postcards; why didn't I do that? Maybe I wasn't finished, maybe I should have read faster.
I began to read White Nights by Menachem Begin on my flight to Tel Aviv.
ISRAEL—The plan was four weeks. It was my third visit, and a mix of tourist sites and a couple of off-the-beaten-path places. I met up with my aunt and we went wine-tasting in the Golan. We spent a few days in Jerusalem; we stopped by the Israel museum where I ran into someone I knew from Brooklyn. We visited the Dead Sea and lathered ourselves in mud like proper tourists. We drove into Judea and Samaria to buy local products: more wine, some olive oil, honey; we visited a couple of old synagogues. Then we drove through the hills overlooking the Patriarchs Highway near Elon Moreh. At the end of the road skirting those hills there was a dairy. I got myself a goat milk cafe latte that smelled like game but tasted delicious.
Midway through my time in Israel I took an intermission from White Nights because I felt drawn to Kerouac's On The Road. One of my roommates in college had lent it to me and then I had given it back to him unread. Later on I purchased a copy for myself and, again, I had put off reading it. But I resolved now that I would read it on this trip. What a depressing book. It's funny to me now, as I seem to wake up ever more from the slumber of my youth and into the morning of my 30s—when we're young I think we expect everything that we encounter to be prescriptive: We think Ol' K is glorifying Dean Moriarty and his wanderings: to and from New York City to Denver to San Francisco to Los Angeles to Mexico to New Orleans and back again. Little do we know that K is being descriptive. Telling us what wanderlust really is and where it can lead; but not necessarily recommending it.
Maybe it was appropriate for me, while overlooking the Patriarch's Highway, to take a break from Menachem Begin and to pick up Kerouac. To consider the idea of wandering and being a wanderer. To consider that though it is true that not all who wander are lost, many are.
I finished On The Road when my time in Israel was coming to an end and so began to plan the next leg of my journey. I would land in Prague, and, over the course of three weeks, I would make my way down to Rome where I would fly back to New York City.
PRAHA, CZECH—Is there any city in Europe as hopeful, fresh, and beautiful? I remember flying in at night, I could see nothing, and I was staying a little ways outside of the city with a family. In the morning I took a bus to a train station and then a train to the Old Town Square. Never have I seen so many churches in one place. On my first day I joined a walking tour and learned about Jan Huss, the Hussites, some of the religious wars of the period, what the word "defenestration" means. I learned about the astronomical clock, the Jewish community of Prague, the symbol of protest and freedom that is all the colors on all of the buildings that have been made up since the fall of the U.S.S.R., one of Prague's beautiful signatures. I also saw an immense amount of Kafka references: statues, postcards, books prominently placed in the bookshops.
As is the case with many places, there is never enough time to see all that there is to see. The tourists always visit and learn more about the history of your home than you—because you're too busy living to step back and analyze the story that brought your world into being. I know this because growing up in Hawaii, I never bothered to take the helicopter rides, or the Napali Coast tours for the bird's-eye-view or the scouting of the boundaries. You can't know it all, it's impractical.
I probably visited twelve churches, and never have I seen so many angels and so many presentations of heaven and the heavenly hosts. It was recommended to me that I should visit the concentration camps. I intended to go on one of the days while I was there but I missed the bus by five minutes and didn't make an effort to go the next day. In hindsight I think I was still tired. Encountering these things does not come without costs. Even encountering beauty, a thing which we so often think is harmless; a thing for which we think we have an infinite capacity.
I think if I learned one thing from my time in Prague it's that, if you are a visitor, you have to take the tours. Visiting a city is like having an interaction with a person on the street. You may come into close contact with them, you may even see their features, how they dress, the way they walk, their posture and demeanor; and maybe even exchange a few words about the weather. But if you never get to know their story—where they came from, what they're thinking about now, and where they're going—then what do you really know about them?
The night before I left Prague I had a dinner of pizza and very cheap beer before attending a basement flamenco concert. The crowd turned out to be composed of myself and just one other couple. Our entertainer was a kindly old woman playing flamenco and classical standards. I drank red wine out of a plastic cup.
BERLIN, GERMANY—As far as I can tell, bus stations in Europe have all the majesty of airports, minus the security. In Berlin, I again visited more grand and beautiful churches, an island full of museums, more cafes, more walls and monuments. I learned quickly that I didn't take the bike lanes seriously enough—I was almost hit by a cyclist who surely saved me with much angry shouting.
Is there a city with better cheesecake? The milk in both Prague and Berlin was excellent; not as watery as American milk; richer. Funny thing about my time in the city was that I only had the classic sausage and beer once. For the rest of my stay I had Chinese food, Indian food, and Italian food. And East Berlin was really the place. Kruzeberg. Everything from the signs to the trains to the colorfully painted buildings—kind of Prague-ish—was beautifully designed, and there seemed to be live music everywhere.
AIRPLANES, TRAINS, CARS—Well, I won't bore you with every city and every detail. At the end of that week I took an Uber to the Berlin airport and flew to Salzburg, Austria. I saw Mozart's home and piano there, and finished reading White Nights. I visited a castle, and was mortified by Christian torture devices. I fawned over some expensive watches in the town square. I watched the sunset over the river. I bought more black and white Ilford film. I took a train to Chur, Austria, and then the Bernina Express to Tirano, Italy. On the ride through the wide snowy Alps my definition of mountains became changed forever.
I stayed in Tirano for a night and a day, and, while there, I gave myself a mustache. Then I took another train to Venice, passing Lake Como on the way. Much later when I would read Pliny I would remember and reflect on this lake and these mountains and understand how much he must have enjoyed being away from Rome, surrounded by the cool forests and fresh air.
VENEZIA, ITALY—Traveling by yourself can be a lonely ordeal. Sure, you can write to anyone you want to at any moment with your phone and an internet connection, but when you're in the church, or in front of the statue, or looking at the view, you can't just turn immediately to the one next to you to exclaim, "My God!" Well, there is a feeling you get, or at least a feeling that I experienced more strongly in Venice than in anyplace else—a soft sorrow.
I don't remember the name of the hostel but it was across the water from St. Marks Square. It was late in the day when I got in, so I locked my things away at the hostel and took a water taxi toward the main island of the lagoon. Most things were closing, and I hadn't made plans so I went to a grocery store and did what I had seen and heard of in stories and movies. I purchased some bread and some wine, a little cheese, and a little sausage, and I had a little picnic on a staircase next to one of the canals. Afterward, I went back to the hostel and sat out on the promenade looking over the water, watching the lights flicker on the boat wakes just like Henry James described it.
The next day I did the usual things, I found some churches, and found some coffee. I considered a gondola ride but then thought better of it. I had purchased some postcards that I wanted to recreate and the striking features looked like the second floor of the Doges Palace, so I went there. I purchased my ticket, I ascended the stairs to the weapon room, I visited an exhibit on the Italian Coast Guard; every surface of every room in every building was covered in beautiful renaissance, romantic, and classic art. I don't know the name of which room I was in when it happened, but there was a moment somewhere in that palace, where I approached another of these twenty foot by who-knows-how-many-wide paintings and I couldn't carry the weight of gazing at it for more than a moment. I had to lower my eyes and hang my head. I was overwhelmed. I didn't finish the rest of the tour. I left the way I had come in. I went to find a cafe—I was hungry. After the cafe I went back to the hostel and sat out on the promenade again, this time with my guitar.
I think in the twenty-six years that I've been playing the guitar I have never been away from one for more than eleven days. That is the cutoff for me, I realized, before I start forgetting things. So I sat there on the water and watched the sun set again. I ordered some wine. I offered to buy a cigarette from a girl among the couples and groups there also watching, but she gave it to me for free. I smoked while pulling out some sheets of hymns that were in my guitar case. I set down the lyrics and I played my guitar, and sang softly.
O Lord my God, when I in awesome wonder,
Consider all the works Thy hands have made;
I see the stars, I hear the rolling thunder,
Thy power throughout the universe displayed.
An Australian fellow from the group next to me asked if he could sit and listen, then the rest of his crew joined us, and I sang hymns while we drank wine and smoked in front of the water. At the end of the night we exchanged information and agreed to meet the next day for a trip to the beach.
Anyway, I don't know where they are now. I wish I did. They were lovely people, and funny—very funny. We have some photographs. And when I got them developed, and I still had a Facebook, I sent them the ones they were in.
Single serving friends, or maybe just a weekend philia-romance.
THE REST—I would tell of the other things that I did, and the places I visited: of my time in Florence, and Pisa, and Rome, where I ate, drank, conquered much wine and much pasta and regained my strength to look on more paintings and church ceilings and magnificent statues; the experience of reading about Michaelangelo in Firenze; and about The Everlasting Man in Rome. But alas the airport of the marble city lost my bag, and for some unthinking reason I had put my camera in it and so lost all my photos of these other magical places; a small reminder that we cannot take everything or everyone, with us forever. ☗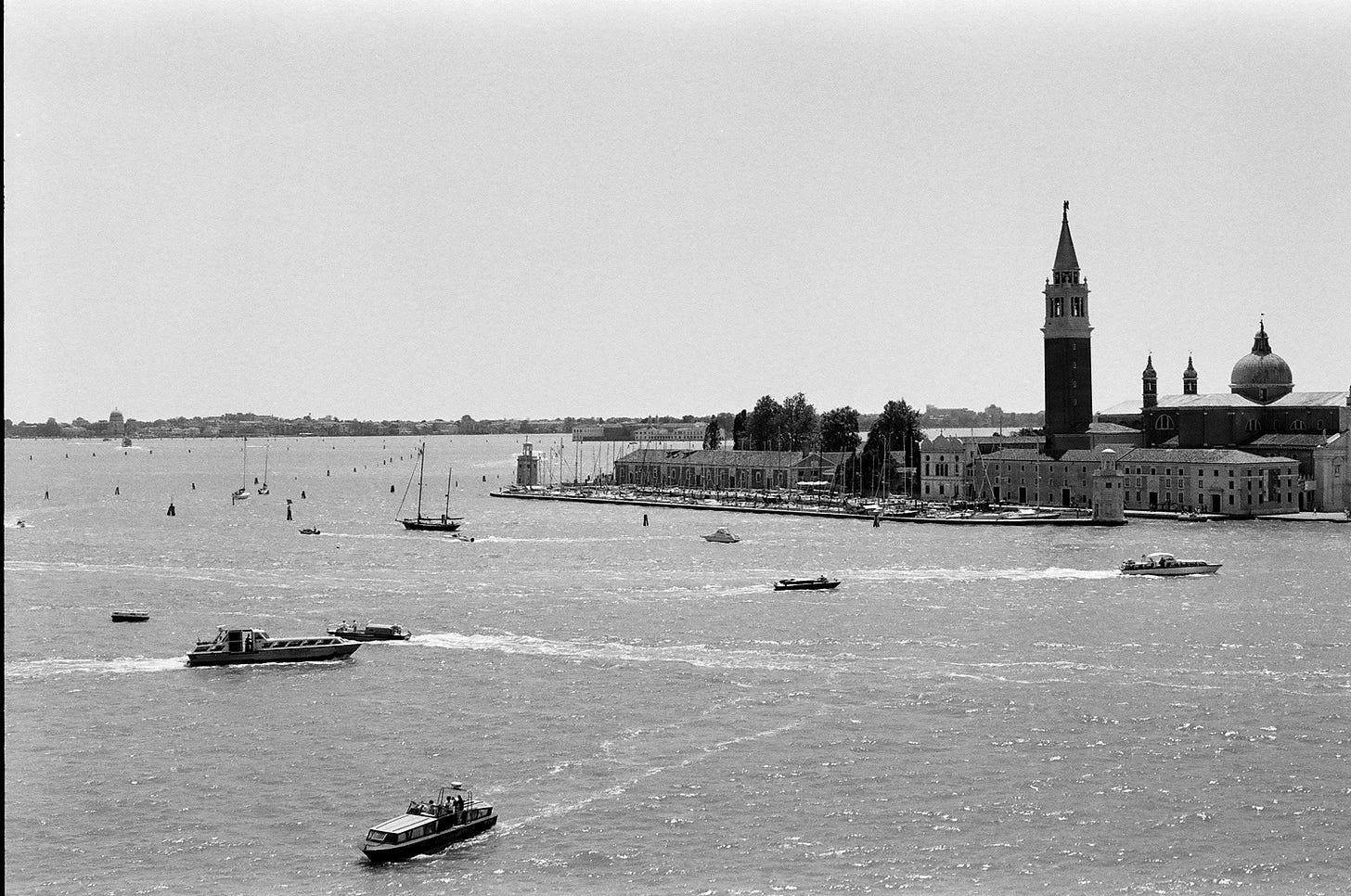 Spring 2015 • Nikon FG